by Shannon B.
(Orlando)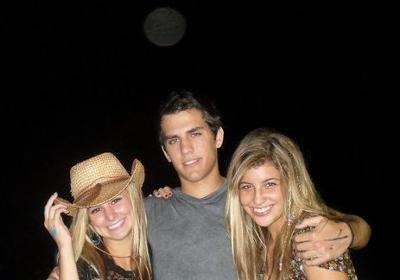 I'm the guy in the middle
QUESTION:
Hey, I'm just an 18 year old guy whose really been questioning a lot about life and what I want to ultimately do with mine, and at first it was just a random thought in my head that I laughed at, but recently I've really considered just taking a break from college (I'm an engineering major), and moving to LA from Orlando and basically trying to survive with nothing but a couple grand and just go to open casting calls and see if I could land a paying job. I know it sounds absolutely ridiculous and I have absolutely no plan on how I would pay for anything, yet alone where I would live, but I'm really scared I'm gonna live a boring life when I feel this calling to just go try something random and stupid, and if I fail I could always come back and start up college again. I've never taken acting lessons or anything but I've always wanted to act and I would hate to live a dull life always wondering if I could of been an actor. So does anyone have any advice or tips for me? Thank you.
ANSWER:
I know how you feel. I dropped out of business school at 19 to pursue my dream of acting. It can be so depressing when you leave high school to embark right away on a serious path like studying to be an engineer or a businessman, especially when you feel there should be more to life then just making a living.
I think it's important to take a long hard look at what really motivates you. If it's just a "calling to try something random and stupid", then maybe all you need is a break. You could take a sabbatical year. Most colleges don't frown upon it if you do something interesting like travel the world or work for a non-profit, etc. If all you want is for your life not to be boring, then why not ask if you can take one year off to do volunteer work in a third-world country or to backpack the globe?
If what you really want is to become an actor, then in my opinion, moving to LA without a plan is not a very good move. There are tons of good-looking wannabe actors with no training or experience living here and very few open casting calls worth going to. If you end up having to take a waiter or temp job to survive, your life will soon become more boring than it was in college.
If you want to give yourself the best chances of succeeding as an actor, you really need to study now so you can get real acting jobs in your early twenties. I've worked for agents and managers and the truth is that most of their clients who got into acting after 18 had a BA or BFA in Acting or at least studied at a major conservatory acting school. If you're serious about acting, why not take an acting class at night while researching and applying to good acting colleges? Look for universities and acting schools with professional stages and connections to the professional acting world.
If you get into a good acting program, you'll constantly feel challenged and won't have a boring day until you graduate. In 4 years, you will have strong credits on your stage resume (plus short film credits and maybe a reel if your acting program is affiliated with a filmmaking program) and maybe an agent through industry showcases. You will have a bachelor's degree, which is a good thing to have if you decide to do something else in the future. Best of all, you'll know how to act, so when you get your shot, you'll nail the audition and be able to follow your dream.
Hope this helps. Use the comments below to add updates from time to time so other actors can learn from your experience in the future.