Looking for good New York acting schools? Just browse our detailed listings of NYC acting schools below to find the perfect New York acting class for you.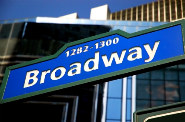 Here you'll find all the information you need to choose where to study to become an actor in New York. Each NY acting school listing below includes detailed information such as acting methods taught, performance opportunities, career preparation, degree earned, tuition fees and financial aid opportunities. You can also find out how to apply for these different acting schools in New York as well as what are your chances of being accepted into each program.
Featured New York Acting Schools
The American Musical and Dramatic Academy
(AMDA)
211 West 61st Street
New York, NY 10023
AMDA is one of the acting schools in NYC better known for musical theatre and Broadway acting. Located next to the Lincoln Center and Central Park, the conservatory offers two 4-semester programs, the Integrated Program (which combines acting classes with singing and dance) and the Studio Program (which focuses on acting for stage, film & TV). Classes include acting and scene study, voice and speech, singing, dance, and acting for film & TV. Depending on the program, actors may also study movement and stage combat, improvisation, classic texts, Shakespeare, music, sight-singing and musical theatre, as well as ballet, jazz, tap dancing and musical theater in film.  Students participate in a Performing Arts Practicum each semester. Second-year students work with a director on a performance presented at the NYC acting school's Off-Off-Broadway theatre.  Graduating students participate in 2 showcases. Actors attend career preparation seminars with agents or casting directors and prepare audition material through a series of audition classes and workshops.
Degree: Actors who complete either program receive a Certificate in Professional Performance Training. The school also offers a BFA in acting and a BFA in musical theater but students have to transfer to Los Angeles to complete the BFA.
Tuition Fee: Contact AMDA for details.
Financial Aid: Scholarships and loan programs are available, as well as on-campus employment.
What you'll need to apply: Transcripts, 2 recommendation forms, an audition (auditions are held at the NYC acting school and throughout the country, as well as in Mexico, Canada and the UK. Foreign students can submit a taped audition). International students from non-English speaking countries need to submit TOEFL scores and may have to take another fluency test. Admission into the second year is by invitation only.
Acceptance rate: About 1 in 2 applicants who audition are accepted.
Audition policy:Students are not allowed to audition for acting work until the last semester.
Five Towns College (FTC)
305 North Service Road
Dix Hills
Long Island, NY 11746
This is one of the New York acting schools that offers a BFA in Theater, rather then a BA, which means more theater training. Classes include acting, singing, dance, movement (Grotowski, Laban), stage combat, theatre history, design and management. Show Business Magazine named this New York acting school one of the top 30 schools on the East Coast to study theater. The low student to teacher ratio allows actors in training to get personalized attention and grow.
Performance opportunities: Students get several opportunities to participate in live productions at the school's fully equipped 500 seat theater, The Dix Hills Center for the Performing Arts.
Career preparation: A lot of the teachers are theater professionals who work in Manhattan, so students can prepare for a professional career.
Degree: BFA in Theater Arts.
Tuition Fee: Contact FTC for details.
Financial Aid: Federal, state and private grants are available, as well as scholarships and loans. Those who audition for the theater program will be considered for a theater scholarship. Almost three quarters of students receive some financial aid.
What you'll need to apply: Application and fee, transcripts, personal statement, test scores, 2 letters of recommendation, headshot (or snapshot) and resume, and an audition that includes acting, singing and dancing to show your potential.
Why Choose a New York Acting School?
Acting schools in New York have the advantage of being located in the biggest theater town in the country. Theater students often have access to discounted tickets to Broadway and Off-Broadway plays. New York's rich Off-Off-Broadway scene offers countless opportunities to audition for productions in black box theaters as you start your acting career.
New York is a good place to study acting if you want to be a stage actor or Broadway actor. Actually, even if your long term plans are to make it in Hollywood, studying in the Big Apple is a good idea. Strong New York theater credits make a good impression on your resume, including among casting directors on the West Coast.
That being said, living in New York is expensive and competition is fierce. It's not unusual to wait all day long to perform at an Equity open call here. The first few serious stage credits on your resume are the hardest to get, so some actors find it easier to launch their acting career in a smaller town with a good theater scene and move to New York once they have a few credits on their resume.
If you already know the name of the acting school you are interested in, just type it in the search box below to see if it is one of the New York acting schools listed on our site: