Looking for good New Jersey acting schools? Here you'll find detailed information on acting schools in New Jersey, including information on New Jersey acting classes offered, performance opportunities and career preparation.
Performers Theatre Workshop (PTW)
This New Jersey acting school in Maplewood, NJ, offers Summer Acting Camps ,acting and comedy classes, film & television acting classes, college preparation, audition preparation, musical theatre classes, singing classes, dance classes and music lessons.
Founded in 1983 by Julliard graduates, this acting school in New Jersey has had countless students graduate and perform on Broadway, feature films, TV commercials, network TV show regulars, etc.
Performance opportunities: NYC Broadway Showcases three times a year, Night of Scenes and Songs, Cabaret Night, Private Lesson Recitals.
Career preparation: Audition Technique Classes, monologue preparation, intensive training by highly credentialed faculty.
Financial Aid: Some scholarships are available based on financial need.
What you'll need to apply: Open to all students ages 3 to adult.
Acceptance rate: 100%. Private lessons or classes suited for any age or level.
Website: Performers Theatre Workshop (PTW)
The New Jersey School of Dramatic Arts
This New Jersey acting school offers acting classes for all levels and ages, from beginner to advanced actors. Children, adults and teens learn from working actors and other professionals.
Performance Opportunities: Students have bountiful performance opportunities…
a Master Class Performance Workshop
Three improvisation troupes (2 adult improv troupes plus a teen improv troupe)
An annual one-act series showcase
Scene night projects
Career Preparation: This NJ acting school receives frequent casting requests from commercial, film and theater companies. It is associated with the Montclair State University's BFA film program and the Comcast Spotlight local cable production company. These professional opportunities offer students a strong understanding of what it takes to build a career in the dramatic arts. The New Jersey School of Dramatic Arts also offers classes in Audition Technique.
Financial Aid: Work-study is available to select students.
What Students Need to Apply: Auditions are required for advanced classes.
Website: www.njactors.org
LaGuardia Acting Studio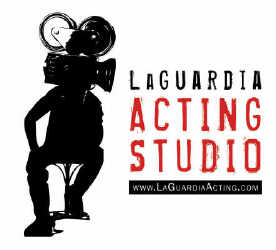 New Jersey acting school geared at preparing actors for the "real world". Classes include scene study, monologue, and on-camera commercial classes. Beginners and advanced students are welcome. Classes are limited to 8-10 students maximum.
Career preparation: Students learn the acting business along with acting technique. Students learn about agents, managers and casting directors as well as what they look for. Trained students can meet with agents and/or casting directors through the school's New York Workshops. Audition preparation classes are also available. Actors get to create and shoot an actual film.
Website: LaGuardia Acting Studio
Neustein Entertainment, LLC
This is one of the New Jersey acting schools that specializes in kids acting classes (6 years old to adults). Classes are 45-minutes long and include beginning classes to more advanced (characters and monologues), as well as commercials, film and TV classes.
Students learn a vast array of acting styles for different mediums.
Performance Opportunities: End of class performances. Numerous professional productions produced by Neustein Entertainment.
Career Preparation: Students can take an audition technique class once a week.
What Students Need to Apply: Strong desire to become a professional workingactor.
Reviews/Testimonials:
"David is great with the kids, mixing teaching with practical application." – Cathy Stauss, parent
Website: NeusteinEntertainment.com
Outtakes!
This New Jersey acting school offeres 8 week film workshops for children ages 8+. Class time mixed with on location shooting of professional scenes makes film making fun while instilling the basic techniques of the business. This includes story boards, voice overs, scene study, on location film shoot and red carpet premiere.
Performance Opportunities: Red carpet premiere for friends at family on last day. Professional 2 person scenes filmed on location, short films, voice over animations and more are viewed on the big screen.
Career Preparation: The workshops prepare the young actor for what to expect on a professional film shoot. While focusing on acting on camera, it also gives them the opportunity to learn behind the scenes jobs.
What Students Need to Apply: Application form and fee.
Audition Policy: Students are encouraged to audition while training.
Reviews/Testimonials:
"THANK YOU VERY MUCH MELISSA! Yesterday, Jennie made a short, 3 part movie on the DVD with title and music by herself, echoing the practice you did in class. We are very impressed by your effort."– Elena L.
Website: Outtakeproductions.com
Looking for more New Jersey acting schools?
Please sign up for our newsletter (upper right column) or subscribe to our blog on the left to receive websites updates, along with monthly acting tips!
Return from New Jersey Acting Schools to Acting School Stop Home