Looking for good Chicago acting schools?
Just browse our detailed listings of acting schools in Chicago to find the perfect Chicago acting classes for you.
Here you'll find all the information you need to choose where to study acting in Chicago. Each Chicago acting school listing includes detailed information such as acting methods taught, performance opportunities, career preparation, degree earned, tuition fees and financial aid opportunities. You can also find out how to apply for each school as well as what are your chances of being accepted into each program.
Why Choose a Chicago Acting School?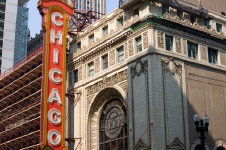 Chicago is world-renowned for its theatre scene. The Steppenwolf Theatre, the Palace Theatre, Victory Gardens, the Goodman Theatre…
By studying here, you will be surrounded by great productions and inspiring performances, but as a beginning actor you'll encounter less competition then in New York, so Chicago acting schools have a lot to offer. Chicago is also often used for film and TV productions and is home to no less then 30 agents and casting directors.
Featured School
The Theatre School – DePaul University
www.depaul.eduLocated in the heart of the Windy City, this is one of the oldest acting schools in Chicago. Geraldine Page and John C. Reilly are among the alumni. Students benefit from a low faculty-student ratio during their acting studies, which include movement, voice, speech, scene study, dialects, stage combat, make-up, improvisation, Shakespeare and the classics, film and television acting, auditioning technique, voice over, African dance and musical theatre. The training draws from a wide range of methods (Stanislavski, Meisner, Spolin, Grotowski, Linklater, Laban, etc.) and uses techniques like Yoga and Tai Chi to develop the actor's instrument. Acting students are also required to take 13 courses in liberal studies.

Performance opportunities:

 The program focuses heavily on performance. The school stages more then 35 plays per season, some at a 1,325-seat theatre in downtown Chicago. After the first year of training, each student in both the undergrad and graduate programs appears in at least 3 productions each year. If you are considering applying for this acting school in Chicago, you can arrange to watch a play for free.

Career preparation:

 Most acting teachers at the conservatory are working professionals. Acting students often work on productions with student playwrights and directors, building relationships for the future. They also take courses to learn the business of acting and how to market themselves, as well as workshops with agents and casting directors. Graduating students appear in an industry showcase in Chicago, LA and New York. In each city, students have an opportunity to network with alumni in a series of events organized by the acting school.

Degree:

 BFA in Acting or MFA in Acting.

Tuition Fee: $28,625 yearly (plus approximately $9,800 for room and board) for the BFA program; $26,900 yearly for the MFA program.

Financial Aid: Students can apply for grants (for undergrads only), loans and work-study programs. Talent and academic scholarships ranging from $5,000 to $14,000 per year are available during all 4 years of study for undergrads, plus one-year merit scholarships based on their previous year of study. Graduate students are considered for yearly renewable talent scholarships.

What you'll need to apply: Transcripts, test scores for BFA applicants, 3 letters of recommendation, a photograph and an audition (held at the acting school in Chicago and in several other major cities). MFA applicants also need to submit a resume.

Acceptance rate: 47 students are accepted into the undergraduate program out of approximately 700 applicants. 10 students are accepted into the graduate program (5 men and 5 women). In both programs, acceptance into the second year is by invitation only.
Chicago Acting Schools
Click on the links below to read detailed information on each Chicago acting school listed.
Creative Studio Space/Chicago  We have run our Creative Studio Space for 5 years. We have offered acting classes of all types over this time. Everything from Meisner Acting Sessions,…
The Artistic Home  The Artistic Home Acting Studio is a Meisner-based training program taught by some of Chicago's most established instructors, among them award-winning …
Actors' Training Center  This acting school just outside Chicago at the Wilmette Theater offers professional kids acting classes for ages 5 through adults.
Acting classes include …
Green Shirt Studio  Teachers at this Chicago acting school are certified to teach the Meisner acting technique.
The core 10-Week Meisner classes include 4 levels covering …
Lake Forest College  Located less than an hour from Chicago, this acting college offers a theater major that includes classes in theatre history, directing, playwriting and …
Northwestern University  This prestigious theater university is located just half an hour from Chicago. Although this school doesn't offer an acting conservatory program and freshmen …
Acting Studio Chicago  Here you can take acting classes in Chicago inspired by Shurtleff's method (described in his book Audition ).
Students take 3 to 3.5 hour-long acting …
Act One Studios  Of all the schools offering acting classes in Chicago, this is the only one that offers a 2-year full-time acting program.
Classes include acting (Meisner,…
Piven Theatre Workshop  This acting school just half an hour from Chicago is affiliated with a working theater dedicated to original works and working with new directors and playwrights….
Loyola University Chicago  This acting university in Chicago offers a theater major program. Acting classes include text analysis, characterization, Shakespeare, voice and movement….
Victory Gardens  This is one of the rare acting schools in Chicago that allows students to work on the stage of a professional theater each time they are in class. Chicago …
Steppenwolf Theatre  This Chicago acting school is for experienced actors only. The 10-week full time summer residency program offers training in various acting methods, from …

Wondering which school to pick?
With so many Chicago acting schools to choose from, how do you pick the right acting school for you? Click here for a list of things to consider when looking for the perfect place to study acting.
Sign up for our blog to find out about new listings of Chicago acting schools!

Getting Around in Chicago
You won't need a car in Chicago. For under $100 a semester, many acting schools in Chicago will give you a U-Pass, which gives full-time students unlimited rides on city buses and the "El", Chicago's elevated subway!