Want your acting headshot to get you agents and auditions so you can become an actor who works all the time?It all starts with picking the right actors headshot photographers.
Read on for step by step information on how to find and choose the right headshot photographer for you
and know what questions to ask to get the best actors headshots possible.
1) How to Find Acting Headshot Photographers
Where do you find good actors headshot photographers?
The best way is to ask a fellow actor whose headshots you like and who gets a lot of auditions. Because you know the actor, you'll be able to see if his picture looks like him, which is very important. Casting directors hate it when an actor doesn't look like his picture because it wastes their time.
If you have an acting agent or manager, make sure to ask them which photographers they like to work with. You should always discuss your actor headshots with your agent beforehand. It's a great way to find out if you're on the same page about your type and the roles you want, plus you don't want to spend time and money on headshots just to find out your agent doesn't like them.
Never sign with an agent or manager who asks you to get your actor photos from specific photographers in order to be represented by them!
You can also get a list of acting headshot photographers from your acting school or acting class. If you live in New York or Los Angeles, Backstage magazine regularly has listings of photographers. You can also browse through photographers' work at many photo labs that do headshot reproduction.
What if you live in a small town and can't find a photographer in your area that specializes in headshots for actors? Work with a portrait photographer and read the guidelines below to have an idea of what makes a good headshot.
2) Pick 3-5 acting headshot photographers to call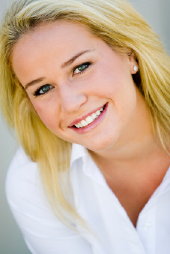 Most photographers have a website where they show a sample of their work. Here's what to look for when you look at actors' headshots:
–Does the actor's face jump at you? Ask yourself if you would want to meet that person.
–Does the actor seem relaxed? The actor should not look like he or she is posing (look for awkward body positions).
–Does the actor look natural? The acting photo should be about the actor, not the photographer. Look for minimum background detail and stay away from shots that are too artistic.
–Does the actor look real? Unless you plan on auditioning for soap operas, actors headshots should not look like model headshots.
–Is the actor's face well-lit and in focus? Avoid artistic shadows and props. An acting picture should not leave a casting director guessing what the actor actually looks like.
–What's the framing? Although actors photos are known as headshots, a good actor photo should usually show more then just the actor's face. Casting directors want to know your body type by looking at your acting picture. They also want to know what your hair is like, so very close-up headshots are not a good idea. A good length is usually a shot that cuts somewhere around the chest.
–Are the headshots in color? Although black and white headshots still work if you're starting an acting career in New York, color is a must in Los Angeles.
–Does the photographer use digital? Digital will allow you to see your shots during the photo session and have the option of both black and white and color.
3) Interview acting headshot photographers
Now that you've picked a few photographers whose work you like, it's time to pick up the phone and ask how much they charge for headshots for actors. Here are some things to consider:
Prices vary a lot, but expect to pay somewhere between $350 and $850 for good quality acting headshots. Of course, some photographers will offer sessions for $ 100 or less, but if cheap headshots don't get you called in for auditions, you'll be losing money in the long run.
Most acting headshot photographers will have packages according to how many "looks" (clothing changes) you want. This is where you can save money – 3 looks is more then enough, especially since you'll be making at least 100 prints of each look.
Make sure to ask exactly what the price includes. Some photographers will give you the negatives or CD of your shoot, others will charge a fee per picture you choose to print. There may also be an extra fee for retouching, hair and make-up.
Find out about the cancellation policy and fees.
When you find a photographer whose prices fit your budget, set up a time to meet them.
Try to meet 2-3 photographers so you find one you feel really comfortable with.
Here are some questions to ask as you flip through their portfolios:
–How does the session work? How long does it last and approximately how many pictures do you take?
Can I bring my own music to the photo shoot?
–Do you use natural light or studio light? Natural light or a mix of natural light and studio light tend to make the actor look more real and natural.
–What about make-up (for women only)? Do they recommend you use a hair and make-up artist? Do they usually work with the same artist?
–What kind of looks do you think would work for me? Discussing wardrobe now is a good way to make sure you see eye to eye on the kind of headshot photos you want. You may also get some good ideas.
–Will they spend time to help you pick shots after the session?
A lot of photographers will circle the shots they think are the best and discuss
it with you a few days after the shoot.
OK, you've found the perfect acting headshot photographer you have good chemistry with?
Time to book your shoot! Visit our actor headshots page to find out how to prepare for the big day and become an actor!
What if you can't afford an acting headshot from a good actors headshot photographer right now?
Don't waste your money on cheap acting headshots! You're better off asking a friend with a good camera to take your actor photos. You may not get the perfect headshots, but you'll be able to try out looks and see what works and what doesn't, plus it will be good practice for when you do have the money for a professional shoot. If you decide to go that route, check out these
digital portrait photography tips for help.