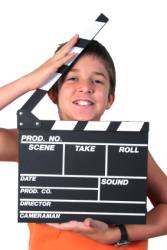 This children acting guide provides step by step information on how to start a child acting career. You'll learn how to choose acting classes for kids, how to get a kid headshot and resume, find an agent and book kids casting calls. Just follow these five easy steps and… have fun!
This is the absolute best way to start.
Why?
Once you've found a good child acting class, you'll enter a community of parents of children actors who will give you advice on auditions, good managers and agents in your area, photographers, resumes, and much more. This will save you a lot of time and money and help you avoid acting scams.
Another reason to start with a class is that it will help your child see if acting is for him or her. If your child is not having fun in class or doesn't really look committed to learning the craft, he can just move on and you won't have spent money on headshots, resumes and mailings.
Finally, another advantage of starting with a class is that your child can build the confidence to succeed at kids auditions. This can make all the difference. A child who knows what to expect won't feel as shy or nervous during auditions.Visit our kids acting classes page for information on how to choose a good acting class for children and what acting skills kids need to learn to succeed.
2) Get a Kid Headshot and Resume
Don't worry about getting a professional kid headshot right away. You don't want to spend money on a headshot photographer only to find out that the children acting agent you get doesn't like them, plus if your child is starting out, he/she may not be as relaxed posing for a stranger.
Just do it yourself to begin with. Digital cameras make it easy. You can take an unlimited number of shots until you find the one you like. It should be a head and shoulders shot and look exactly like your child. Avoid tight close-ups that conceal your child's hair and body type but stay close enough to focus on your kid's eyes.
Go for a natural and spontaneous look. This is important for all actors but even more for children, because if your child is posing, he just won't look like a kid. Taking the pictures outdoors with natural light will help. If your kid is having a hard time smiling naturally, try to take your camera along when you go out and take a few candid pictures when your child is having fun at the park or elsewhere. Of course, you need him to look at the camera, but if you're fast, you could have just enough time to get that great natural shot.
Once you got a child headshot you're happy to start with, put together a kid resume. Don't worry, nobody expects child actors to have tons of experience. Just click kid resume for ideas on what to put on a kid resume and see our adult acting resume format page to know how to write an acting resume.
3) Get a Children Acting Agent
An acting agent will find acting auditions for your child and also offer useful advice on children headshots, resumes and classes. The best way to start your search for a children acting agent is your child's acting coach and other parents in his/her acting class. There are a lot of acting scams out there, so a recommendation from another parent is invaluable.
Other ways to find acting agents are through mailings, talent showcases and agent workshops. Visit our kids acting agents page to find out more about all these different options. If you can find acting classes for kids that also offer agent showcases, that's great. Not only will your child be introduced to different agents in town, but they will usually also get valuable feedback they can learn and grow from.
If your child looks young for his age, make sure to mention it in the cover letters you send to kids talent agencies. Agents are always looking for kids who can play younger.
Talent to Go
 acting coaches Judy Kain and Pat Tallman explain why in the video below.
Once you've found a children acting agent, he may recommend your child get professional headshots. Don't worry, young talent photographers know that kids need headshots more often then adults and usually have affordable prices. Your kid's agent may have recommendations and you can also get ideas from other parents.
Avoid Scams
An acting agent or manager should never request that you work with a particular photographer or study with a particular acting coach in order to represent your child (recommendations are fine, of course). You should never give ANYONE money to get your child started in the business. Legitimate 
kids talent agencies
 only charge a 10% commission when your child books an acting job. No kid manager or acting agent should ever charge money up front.
4) Get your Child Ready to Work
Before you take your child out on kids auditions, you'll want to make sure they have all their paperwork ready should they book the job. They will need a social security number and a work permit from the Department of Labor, which both their school and pediatrician may have to sign off on. Your child's acting agent should be able to provide you with all the details and requirements, as well as information on how to open a trust account for your child's earnings. Also make sure you and your child have a passport should they book an movie or TV role shooting oversees.
Now that your child has acting skills, a headshot and resume, and an agent, he is ready to go out on auditions. There are many opportunities for children acting: commercials, Broadway shows, Nickelodeon children shows, Disney movies, etc… Visit our kids auditions page for information on what acting jobs are out there for young talent, what happens at kids casting calls and how to give your kids the best chances to book these children acting gigs!

Wondering what you can do to help your child succeed? Read these kid acting tips for parents.
Return from Children Acting Guide to Acting School Stop Home