Want to help your kids acting career but don't know how? Read these tips on what parents can do to help their children succeed as child actors and in kids acting classes.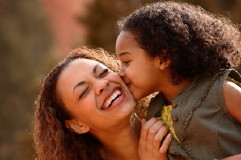 Become a Parent Actor…
For the sake of your child's acting career, you will have to become an "actor" too. Don't worry, you won't have to perform, but you will have to learn the business of acting and understand the lingo. Feel free to browse other sections of this website for help. To get started, review our pages on how to become an (adult) actor. You can also browse through our acting resources for help with resumes, cover letters, etc.
… but not a "stage parent"
This may be difficult when you worked so hard to get your child to kids acting classes, auditions and callbacks, but when they get an acting job, try not to interfere with rehearsals or the flow of production. Of course, you can and should always accompany your child to work, but if you want them to get more acting jobs in the future, being a discreet parent is the best thing you can do, so avoid coaching them on set or telling the director what to do.
Be Your Child's Personal Manager, not his Professional Agent
As the parent of a child actor, you will have to do a lot of "managing" in a very practical sense. You'll schedule and attend kids acting auditions, you'll decide where and how to spend money on classes and headshots, etc. But when it comes to professional representation, let a professional do the job. Your child simply won't have access to the same kind of opportunities if they don't have a professional agent or manager finding the right auditions for them and guiding their career. Agents and managers have built relationships with casting directors, producers and others in the industry for years. They have access to tons of auditions you just would not hear about otherwise. Agents and managers also know all the union regulations and pay scales and can negotiate the best contract for your child. A good agent will also protect your child by steering you away from acting scams and low-quality acting jobs.
Support your Child, but resist Coaching Your Young Actor
Well meaning parents can really ruin a child audition or performance by giving them line-readings, even when they have a good sense of how to act a scene or monologue. Listen to what Talent to Goacting coaches Pat Tallman and Judy Kain have to say about child actors who are coached by their parents in the short video below:
That doesn't mean you can't do anything to support your child and help them prepare for auditions. During kids' auditions, casting directors are not just looking at acting skills. They also want to make sure the child will be easy to work with and is not overly shy or prone to temper-tantrums. How do you help with that? You're already doing it! By being a parent. By teaching them manners and respect of others and by providing the nurturing environment they need to build their self-confidence. So actually, you're doing A LOT! The rest will be taught in kids acting classes.
Create a Balance
Actors, even successful ones, face a lot of rejection. That's just the nature of auditioning. Acting for kids can be fun but also stressful. Your child will have an easier time if he/she has other interests outside of acting. First, establish that schoolwork cannot come second to acting. Second, consider nourishing another hobby they have, be it soccer, ballet or playing the drums! Actually, it will also help their acting when you mention these extra skills on their child acting resume. Finally – and this is a big one – let them be kids! Make sure the pursuit of success in their acting careers is not keeping them from being kids. It's important for their happiness and also for their success (as you'll see when you read about kids auditions).

Hope all these kids acting tips help!
With proper parental guidance, a kid acting career can be very rewarding for a child who is passionate about acting and maybe even pay for college!
Make sure to check out our step by step guide on how to start a child acting career if you haven't already done so. It covers everything, from kids acting classes to kid monologues and auditions.
Return to First Page of Child Acting Series
Return from Kids Acting to Acting School Stop Home