The acting resume format is very specific and has to be followed by the letter if you want to get calls for professional acting auditions. Start by looking at the acting resume samples on this page to get the big picture, then read about the details of writing your resume below, along with do's and don'ts and how to make your actor resume stand out.
The Big Picture
Here are a couple of things to keep in mind when you create your resume:
Keep it simple. Use easy to read black font and avoid using too many bolds or italics. Print your resume on white paper. As an actor, you naturally have a creative personality and it may be hard to stick to the basics, but your personality should come across in your headshot, not your resume.
Keep it short. The acting resume format is one page only that fits on the back of your headshot. If you have a lot of credits, you can adjust the font size and/or write down only your most impressive roles.
Make it fit. Your acting resume should be neatly cut to fit behind your 8×10 headshot. Align your resume to the left so you will only have to make 2 cuts at the right and bottom of the sheet. Staple your resume at the top and bottom of your acting photo or at the four corners. Some photo labs or printing shops will offer to print your resume directly on the back of your picture, but this means you will have to get new prints each time you get a role and have to update your resume (which hopefully will be often).
Acting Resume Format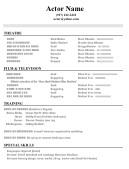 As you can see by clicking on this example, the acting resume format is simple.
The basic acting resume format is made of four parts:
1) Name and contact information.
Your name appears at the top of the page, centered, followed by your phone number and e-mail address or by your agent's and manager's contact information if you have representation.
If you are a member of an actor's union, you would also list it at the top of the page, writing down SAG for "Screen Actors Guild", AEA for "Actor's Equity" and AFTRA for the "American Federation of Television and Radio Artists".
Most headshots are now in color, but if you have black and white photos, make sure to also include your eye and hair color at the top of your resume. If you are a musical theater actor, you may also want to write down your vocal range.
2) Experience
Next comes your list of credits. Those are separated into 2 or more areas. If you live on the East Coast, you would list your Theatre credits first. If you live on the West Coast, you would list your Film & Television credits first.
In the acting resume format, each credit is divided into 3 columns. In the first column appears the name of the play, film or television show you acted in. In the second column appears the name of the character or the size of the role you played. For plays and recognizable film titles, write down the name of the character. For less known films and television shows, write down the size of the role (for example, lead). In the third column appears the name of the theater where the play was produced or the name of the theater company. For films, you would write down the name of the distributor, production company or director. For television credits, the name of the network would appear in this column.
3) Training
After your experience, you would list where you studied to become an actor and mention any acting degree you obtained. If you went to acting school full-time, write that information first, followed by any additional classes, workshops and acting coaches.
4) Special Skills
The last thing to add when you create an actor resume is a list of special skills. This includes languages spoken, dialects, sports you excel at and any technical skills that may be required by a role you audition for. Click here for more ideas of what can go under that category.
Acting Resumes DOs and DONT's
Now that you understand the basic acting resume format to become an actor, here are a few tips of things you can do to make your resume great and up your chances of being called in to audition:

Since you don't have to list experience chronologically on an acting resume, organize your credits to make the best possible impression. Most casting directors will quickly scan your resume and not read everything, so make sure you list your most important acting jobs first.
If you have a lot of credits, leave out smaller roles and theaters to present yourself as a lead actor and take your acting career to the next level. Don't feel you have to write down every thing you ever did.
Having your agency or management company's logo on your resume right next to their contact information can make your resume look more professional. Ask your agent or manager how you can add their logo on your resume. If you recently signed with an agency and already have a lot of resumes printed out, they may offer you stickers with their information to affix to your resume.

Here are a couple of acting tips on things to avoid when you write your acting resume:
DON'T include your age on your resume. A good actor headshot will tell the casting director your age range, which may be very different from your actual age. Similarly, you shouldn't include measurements unless you are looking for print work as a model.
DON'T include your home address or home phone number. It's safer (you never know where your headshot will end up) and you need a number where people can reach you quickly.
DON'T make up credits to fill up your resume. Casting directors are expert lie detectors. Your goal is to build long-term relationships with those in charge of hiring actors. They know everybody has to start somewhere and love to discover new talent. Don't take the chance of destroying your credibility before you even start your acting career.
DON'T list commercials on your resume. Commercial casting directors don't expect to see your commercial experience listed on your resume, although you may want to list a good commercial technique class you took. Some actors like to have a Commercials heading and write below that "List available upon request" but this is really not necessary. Actually, advertisers may prefer an actor who isn't over-exposed (i.e. an actor who hasn't already appeared on TV selling a dozen other products). On the other hand, if you do a lot of voice over work, you may want to list those credits under Voice Over to establish yourself as an experienced voice over actor.
To get a better idea of what a professional resume should look like, look at these acting resume samples.
OK… You wrote a resume that fits the acting resume format?
Time to hit the print button!
You will also have to upload your resume online so you and your agent can submit it electronically. Several casting sites also require that you use their online format and rewrite your resume there.
Need more help?
In my efforts to best help you achieve your acting goals, I have written a new e-book called Become an Actor : A Guidebook for Beginning Actors. I encourage you to click here to learn more about how the book can help you.