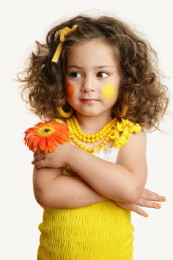 Want to know how to get your child started in kids modeling?
If people always tell you your kids should be in movies or magazines, you may have decided to give kids modeling a try. But finding information on how to do this right without wasting time and money can be hard. That's why we wrote this step by step child modeling guide. Just follow the steps outlined below to get started and have fun while you give your baby, toddler, child or tween a chance to save for college through modeling gigs and kids acting classes.
1) Take Snapshots of your Kids Modeling
Just get your budding child model outdoors or close to natural light and start taking pictures. Get a few nice headshots and full body shots over a few days. Try to get different looks.
Below are a few examples:
Day 1: capture your child the way they usually dress and have their hair. This is the only look you absolutely need. Kids modeling agencies want to know what your child usually looks like.
Day 2: Do a fun look (for example, spiked hair for a boy or pigtails for a young girl). Play around with different outfits and hats.
Day 3: Do a sporty look. If your child plays soccer, get a few shots in their soccer gear, for example.
Day 4: Do a dressed up look (kids should still look like kids, though, so try to avoid makeup).
Spreading your "shoot" over a few days will prevent your kid from getting bored and keep your pictures fresh and natural. Go for the shots that look the least posed and the most spontaneous. Make sure you have a lot of smiley shots (most kids modeling jobs are of kids smiling).
2) Get your child's pictures to modeling agencies
How do you find legitimate modeling agencies? Start by looking for kids talent agencies that have print departments (ie. Modeling). After all, why limit your child to modeling when they could be considered for kids acting jobs down the road? Talk to kids acting schools and kids acting classes. Many will have a list of legitimate children modeling agencies.
If you live outside of the major entertainment centers…
Visit the SAG Find an Agent page. You will get a list of franchised and non-franchised talent agencies in your area when you select your state at the bottom of the page. Once you have your list, all you need to do is google each agency name to see which ones accept child models.
If you live in New York or Los Angeles…
Get a publication with talent agency listings. In the short video below, kids showcase producer Mae Ross talks about how to submit to Hollywood agents and where to get reliable listings for kids modeling agencies and talent agencies.
Mae recommends submitting your child's pictures by mail because child modeling agencies get too many online submissions to look at each individual one.
Choose 3 or 4 snapshots from the ones you took of your little model and mail them out to your list of kids modeling agencies along with your child's age, height, weight, eye and hair color, dress size and shoe size.
Include a short cover letter to introduce yourself and your child to the agent. Write that you are looking for representation for your child for print (as well as commercials and theatrical representation if that's the case). If your kid is older and you want them to be considered for acting jobs, you'll need to send along a resume, but all you need for younger children is a few lines about what makes them special. Make sure to include your contact information and the best number to reach you.
3) Get Ready for Kids Modeling Go Sees
There are many kids modeling agencies out there. To choose the right one for your kid model, read the advice on our kids talent agency page.
Remember… You should never have to pay for representation. Some kids modeling agencies will tell you they require a registration fee for one reason or another, but the truth is that if an agency is successful at getting their clients auditions and jobs (what you want), they won't need to charge a fee. That being said, keep in mind that print jobs are usually subject to a 20% commission rather then the 10% commission that is customary for theatrical and on-camera commercial representation.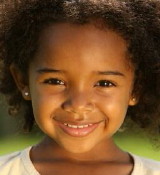 Once your kid has secured a good child modeling agency, the next step is to get professional pictures. Your child's agent will likely recommend a few good photographers to work with. After the session, you'll pick out the best shots with the agent and create a comp card (also known as "composite card" or "zed card"). You can also put together a modeling "book" of pictures (also known as "portfolio") to take along on go-sees (the name for print castings). Once your kid gets print jobs, you can put his magazine photos in his portfolio. If your son or daughter also wants to go out on kids acting auditions, you'll have to make 8×10 copies of a good headshot.

Most modeling agencies will now put pictures and resumes of their clients online, but when it comes to kids, you have to be careful that their privacy is protected. No personal contact information should be listed along with your kid's modeling pictures.
4) Get Your Little Child Model Started
Once your child has his headshots, comp cards and portfolio ready, it's time to go out on castings. Make sure to keep your child's print agent updated on new contact information, pictures and vacations you take (by "booking out" when you're going to be out of town as a family).
While you wait for go-sees and auditions, get your child model ready to work. All children under 18 years old working in the entertainment industry are required to have a work permit and a Coogan trust account. In order for your child model not to miss out on jobs, you'll want to take care of this as soon as possible. Start by contacting your state's labor office to apply for a minor work permit. You will probably have to provide paperwork from his/her school and/or pediatrician. Also talk to your bank about setting up a Coogan account to put away 15% of your child's gross income as required by law. You may want to open another account at the same time to save the majority of earnings for college.

Can't get a good kids modeling agency to represent your child?
You don't need an agent to get your child model started. Many companies like 
Gap
 and 
Parents
 magazine have photo contests and open calls!
That's it! Have fun… That's what it's all about.
Return to First Page of Child Acting Series
Return from Kids Modeling to Acting School Stop Home