Commercial auditions are different from other acting auditions. They require their own set of skills. So if you're interested in being a commercial actor, read this quick guide on how to find commercial casting calls, how to get commercial agents and how to audition for commercial casting directors.
1) How to get a commercial agent
The best way to get a commercial casting call is to get a commercial agent. Some acting agencies have different acting departments, including a theatrical department for theater, film and TV and a separate department staffed with commercial agents. When you're starting your acting career, it is often easier to sign up with a commercial agent because they are not as concerned with experience as a theatrical agent. What matters the most to them is whether or not you have a commercial look and a good commercial headshot.
If you're looking for an agent, check out our acting agents page before you read on. You'll find information on how to submit to acting agencies and how to get noticed and interview for acting agents.
Talk to your agent!
Once you sign with a commercial agent, make sure they know what you will and will not do. For example, they shouldn't send you on non-union commercial auditions if you're a union actor.
Also, you may decide you do not want to attend commercial casting calls for low paying jobs. Unlike union commercials, where the actor gets paid residuals every time the TV commercial airs, non-union commercials pay a flat fee, known as a "buyout", that allows the advertiser to run the commercial as often as they want for a set period of time. If the pay is too low, it may not be worth it for you.
You also want to make sure your agent knows your list of "conflicts" (commercials you have worked on in recent years) because you shouldn't attend commercial castings for products you've recently advertised (an example of a "conflict" would be if you had just done a Toyota commercial and your agent sent you on a Honda audition).
Finally, talk to your agent if you don't want to go to some commercial casting calls for moral reasons (for example, if you don't want to do an alcohol commercial).
2) How to get commercial auditions
If you don't have a commercial agent, the Casting Networks website is the main resource commercial casting directors use for commercial castings in LA, NY, San Francisco and Miami. Actors who have an agent can sign up for free. If not, you can pay a small monthly fee to access casting calls open to actor submissions.
Finding commercial casting calls is one thing, but what gets you called in when you submit?
Your commercial headshot!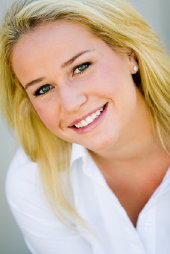 Your commercial headshot is your single most important tool in getting a commercial audition because it's all about your look.
What look are they looking for?
Real people.
So go for the "guy/girl next door" and "best friend" type when getting your commercial headshots.
A good commercial headshot should show the casting director exactly how you look. Avoid enigmatic shadows and strange angles. A color picture with the actor looking straight forward and smiling (preferably showing teeth) works best and will get you called in so much more then an artistic shot that leaves the casting director guessing what you look like.
For more information on getting headshots in general, read these tips on getting actor headshots.
Do you need a commercial acting resume?
NO!
When you submit your headshot and resume for a commercial audition, you should use the same resume you use for any other acting audition (you can view sample acting resumes here).
Some actors like to have a commercial section on their resume with the mention "List available upon request".
The only thing you may want to do differently on a commercial resume is include your height and weight, as many commercial casting director like that, but keep in mind that adding such details could limit your chances of being called in.
Got a call for a commercial audition?
Great! Click here for information on what happens at commercial auditions and how to audition for commercials to give yourself the best chances of booking the job.